Want an Iverson's dodger?
Iverson's travels to many locations.
We provide service to the following West Coast locations: (if you do not see your area listed please check with us about possible service in your area):
Olympia Washington
Port Ludlow Washington
Port Townsend Washington
Seattle Washington
Tacoma Washington
Vashon Island Washington
Bainbridge Island Washington
Bremerton Washington
Everett Washington
Shelton Washington
Port Orchard Washington
Poulsbo Washington
Anacortes Washington
Portland Oregon
Blaine Washington
Edmonds Washington
Gig Harbor Washington

Alameda California
San Francisco California
Los Angeles California
Oakland California
Sausalito California
San Diego California

Harbor Island
Shelter Island

Tiburon California
Newport Beach, California
Long Beach, California
Dana Point, California
Ventura, California
Oxnard, California
Redondo Beach, California
Marina Del Rey, California
Oceanside, California
Santa Barbara, California
Santa Cruz, California
Coronado, California
San Pedro, California
Our normal service area includes Washington, Oregon, and California. We can also travel to other locations as well. If your sailboat is located on the East Coast or Alaska and you are affiliated with a yacht club or another type of sailboat organization, find out if others in your club, marina or association are looking to get a new dodger. If so, we can group dodger projects in certain locations together making it feasible to get an Iverson's brand dodger even if your boat is not in our normal service area. We have traveled thousands of miles to design and construct dodgers for sailboat owners all over the United States. Our clients have found great value in the ability to have our 10 time, international award winning Iverson's brand dodgers customized to their sailboat by our traveling design team.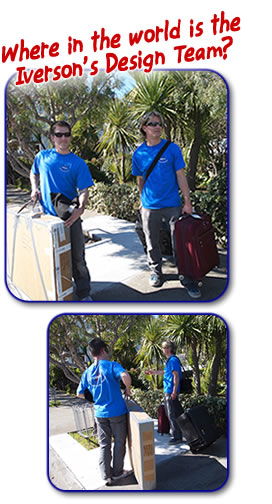 You might be asking yourself, "Why would you have someone construct a dodger for your sailboat who is not located in your area? Why not hire your local general canvas shop? If you have never seen an Iverson's brand dodger in person then that's the only reason you would be asking yourself that question. Iverson's is not a general canvas shop that will make anything canvas. We focus and specialize specifically on our product, the Iverson's dodger design. We have developed a proven dodger design and method of construction that has put our product on the top.
Sounds crazy to contract with someone to build you a dodger who is not in your area? Our clients don't think so. Our reputation is reliable, efficient, timely, and honest in how we conduct business. See our "Customer Feedback" page or see our "Testimonial Videos" or give a call to any sailboat dealership or brokerage in the Pacific Northwest and ask, If they would recommend Iverson's to construct a dodger. Give us a call or send us an email to learn more on how you can get the Iverson's brand dodger.