We can custom design and build an enclosure for the cockpit of your sailboat. This is an excellent way to add more useable space year-round with our cold and wet winters. We specialize in creating enclosures that don't impair your abilities to sail.
Adding a canvas enclosure to your sailboat not only gives you more usable space year round but also makes cruising more enjoyable. An enclosure can truly make the difference of whether or not you decide to go out on the boat for the weekend. For example, the weather forecast is for wind and rain. With an enclosure you can be at the helm staying warm and dry while underway. This fact alone can greatly influence a spur of the moment decision to go out on the boat for the weekend.
After all... the reason you bought a boat is to use it right?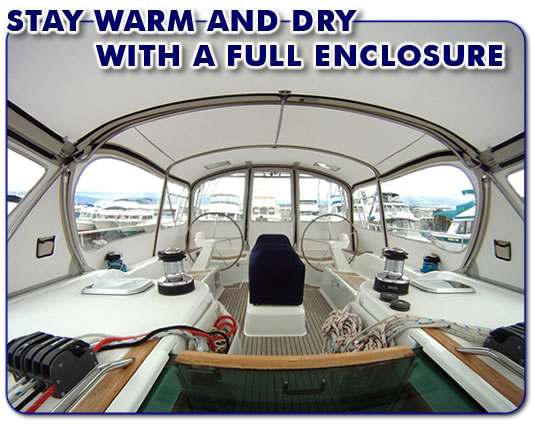 If your boat is equipped with a heat system, leave your companion way slider open and the enclosure will encapsulate the escaping heat from the cabin. Without an enclosure foul weather really controls the use of your boat. For instance, having breakfast in the cockpit when wind and rain are present isn't that enjoyable (well maybe for some?), but for most we are forced to seek shelter down in the cabin.
I don't know about you but the view from inside the cabin is very limiting and I would much rather be up in the cockpit enjoying the surroundings of a beautiful anchorage. With an enclosure you're the boss, no longer are you at the mercy of the unpredictable Northwest weather.