What are the steps involved with getting an Iverson's Dodger and/or other canvas products?
Making contact........
Getting an Iverson's Dodger and/or other canvas products made by Iverson's is easy. To start, we recommend familiarizing yourself with our website by reviewing the different canvas dodger designs, options, upgrades, and other canvas products that we offer. If you have questions about our canvas designs or would like to get some pricing, call or email us, and one of our staff will gladly reply and answer any questions you may have. Because all of our canvas dodger designs, options and canvas accessories have standardized pricing, coming out to your boat to give an estimate is not necessary. Some people ask how it is that we can quote pricing without seeing a boat. Unlike many canvas companies that construct canvas for all types of boats, we specialize specifically in canvas dodger designs and enclosures on sailboats. We have been in the business of sailboat dodger design manufacturing for over ten years and have yet to see a boat that we haven't been able to construct a dodger for, or that doesn't fit within our standard pricing schedule.
Booking......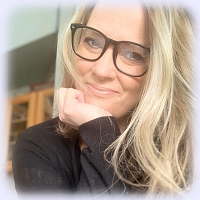 If, after reviewing our website and talking to one of our staff, you would like to place an order for a canvas dodger or other canvas product, let us know and we will email you the contracts required for booking into our schedule. Once we receive your completed contracts and a deposit* we will then plug your project into our production schedule and notify you of an approximate starting date. We operate on a first come first serve basis so the sooner we receive your completed contracts and deposit the sooner you will be entered into our production schedule. On average we run anywhere between 1 month to 5 month back log depending on the time of year. Generally, once we start your canvas project it takes 1-2 weeks production time.
*A deposit of $500 is required upon booking into our schedule.
Scheduling consultation....
Typically, one of our staff will contact you a week prior to when we will want to begin production of your canvas project. The point of this call is to schedule an appointment with you on your boat for a design consultation and to begin production. Also, we will discuss with you the options, upgrades and canvas accessories you would like added to your project. This enables us to equip our van with the right products to begin production on that scheduled date. Sometimes due to unexpected openings in our schedule we may contact you a day before wanting to begin production to see if you might possibly be available. We understand with such short notice this might not work for your schedule and will find another time that works for you. At times, weather patterns can greatly influence our abilities to give you accurate starting dates, completion dates and consultation/design appointments. Please note that we pride ourselves and are committed to maintaining as accurate of a schedule as possible but sometimes the weather makes this challenging.
Consultation and construction...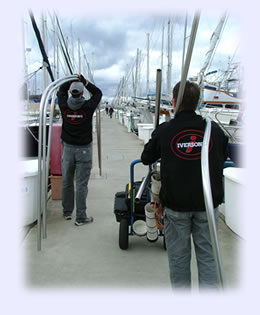 The day we meet with you on your boat for a design consultation is generally the day we begin production. To help this process go smoother it is helpful if you have already predetermined the options and upgrades as well as any other canvas products you would like added to your project. This allows our road crew to work more efficiently. During this appointment it is your opportunity to express your thoughts and ideas in regards to the canvas dodger and/or other canvas designs. Our road crew will give you advice and make recommendations that will aid in making your new canvas dodger or other canvas project as effective and well designed as possible. Once all the specifications of your project have been discussed and the measurements have been taken, we will begin construction. This happens minutes after meeting with you and begins with the fabrication of your frame on our mobile frame bending system. Then we mount this frame onto your boat and develop a pattern of the canvas dodger. At this point you can truly stand back on the dock and see the design via the template we have created which includes window lines, cut outs for lines, pockets, etc. During this stage we always give our clients the option of staying around the boat as a way of engaging in the design. While this is not required or necessary, for some it helps to assure that they are getting exactly what they want.
Production....
After your canvas dodger and/or other canvas accessories have been designed and patterned onto your boat we immediately begin fabrication. You can be assured that the quality of your new canvas products will be next to none. Each step of the fabrication process is performed by people who specialize in that particular area. Our Road Crew specialize in the design and patterning of your project which is then followed by our layout team that prepares your patterns to be handed off to our sewing team who meticulously stitches together your canvas project. If welding is an aspect of your project our welders pride themselves in creating clean welds that don't require grinding and polishing to make them look acceptable. Because all of our staff specialize in certain areas of the process they become exceptionally good at what they do. This results in a final product that is of the highest quality, from stitching to welding to overall design and construction.
Installation....
The final step in getting your Iverson's canvas dodger and/or other canvas products is installation day. Usually installation of your project occurs within a week to 2 weeks of the initial consultation and production. However, this may vary depending on the scope of the project and consistent days of foul weather. Unless requested, we may or may not notify you of the installation day. There are varying reasons why notification of installation day can be challenging. Mainly the weather plays a big factor in determining when installation may occur. For the most part installation is fairly straight forward and doesn't require any decision making in the process. So, normally we will show up install your project and notify you of its completion via email or phone. Typically the day we install is the day we email you the final invoice.