FRAMEWORK
The framework for an Iversons Dodger is created using optimal curves and angles to obtain structural integrity and to reflect the linear characteristics of the sailboat. Stainless Steel Options: 304 or 316 grade tubing with an .065 wall thickness 1" O.D. or 1.25" O.D.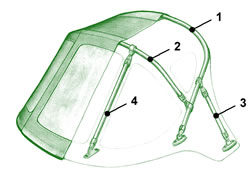 Main bow;
Forward bow;
Aft rigid supports;
Forward rigid supports
Note: The addition of side grab-rails significantly improves the structural integrity of the entire canvas dodger.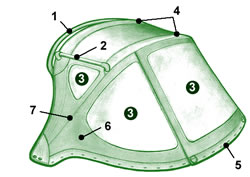 FEATURES
Back grab rail - 1" O.D. (Welded)
Side grab rails - 1" O.D. (Bolted)
Windows - rigid or soft, bonded or stitched, scratch and UV resistant, 40,60,80 mil. thick, glare reduction tints available
Forward and aft chafe guards
Reinforced perimeter
Canvas - 9.25 oz. acrylic (water resistant, UV resistant)
UV Resistant Stitching (Heavy guage thread)

AERODYNAMICS
Designing dodgers that are more aerodynamic not only reduces windage but also adds to the structural integrity of the frame.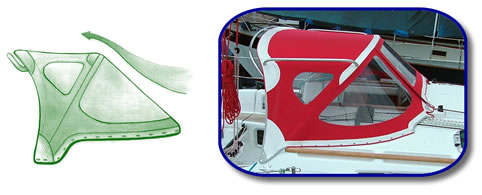 The diagram to the right illustrates efficient airflow around the canvas dodger and increased line of sight on windward side of sailboat. The yellow area is the common footprint of most dodgers. By comparing the two lines of sight, which increase with distance, it is apparent that visability can be increased with a more aerodynamic design.
(Click diagram to enlarge)