[Go Back]
By SV Taniwha
[Click Here To View The Original Article]
We needed a new dodger, and to add a bimini for coverage in the tropics. We wanted super strength, visibility and maximum area without compromising either of the other requirements. And it had to look great ...
Sounds hard, right? Not in this case. Once we saw the work and boat-owner reviews of Iverson's Design, and interviewed owner Jason Iverson on the phone about his designs, process and materials, we knew we'd found the right company to design and build our new dodger and bimini.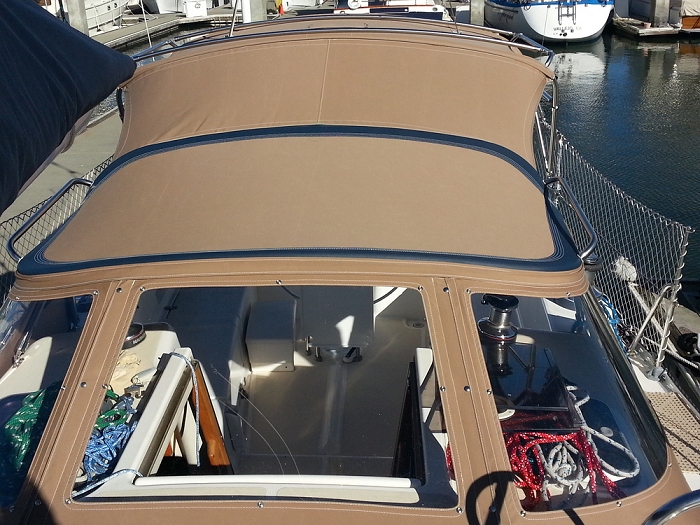 Great visibility through crystal-clear windows - removable, of course.
Jason has created a fantastic, efficient business model for boat canvas. Whereas most canvas makers start anew with each new project, Iverson's is able to apply its knowledge and strengths similarly to all projects. He doesn't start by measuring; he can give you a quote over the phone, based on options you choose - stainless tubing thickness, window material, accessories, etc.

Then, once you've agreed on a set of options, he and his small, nimble team visit your boat for measuring. In our case, they hopped on a plane from Seattle to visit our boat in Alameda. No worries, since Jason has business all up and down the coast; they batch their work to economize on the travel.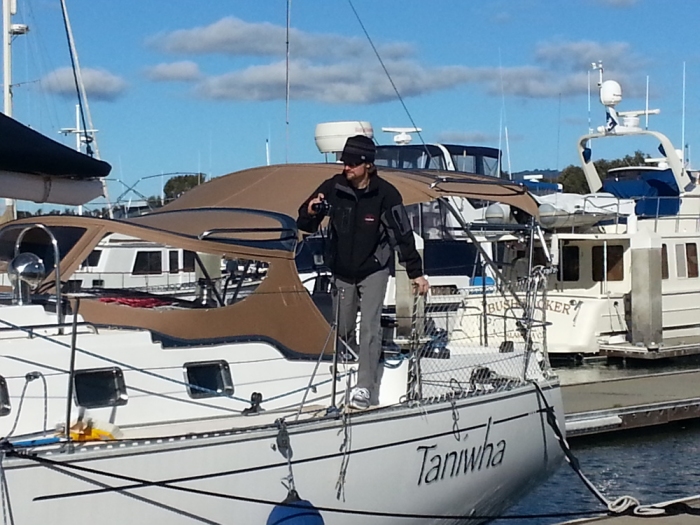 Jason Iverson photographing his work on completion.
After measuring, Iverson's ships the basic frame to your location, and schedules a build session ( one day). The team again flies in, removes your old gear, and with incredible speed and workmanship cuts, fits and bolts on your new frame. Then they stretch plastics over the frame to measure for the canvas.
A couple weeks later, they're back on the boat, stretching on the new canvas. You're done.
Our new dodger and bimini have attracted a lot of comments and attention. The product speaks very well for itself; the workmanship, the lines. Word of mouth is the very best marketing, as I'm sure Jason can attest.