Save big $ when you bring your boat to Olympia!!!
Bring your boat to Olympia to get outfitted with a new Iverson's i-Top dodger and/or other canvas work and save big time! $1000 off our Iverson's i-Top dodger, a $1000 off our bimini and connector panel system, $1000 off our enclosure panel system! Up to $3000 savings when you bring your boat to Olympia for us to work on. Contact our office for details. There are many things to do and see within walking distance of Olympia's Swantown Marina guest docks. Great restaurants, farmers market, antique shops, art galleries, quilting shops, etc.. Also, within walking distance is a full service boat yard just south of Swantown marina guest docks. Coordinate to have other work done to your boat while you are here making it a one stop shop experience.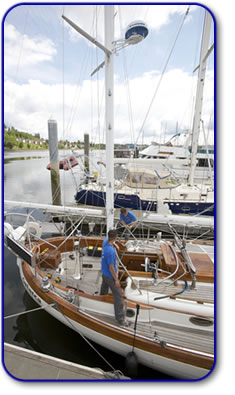 We are located at Swantown Marina in Budd Inlet. From Seattle to Olympia the trip takes between 7-9 hours on the water depending on your timing with the currents. Drive time on I-5 from Seattle to Olympia is about an hour. Many of our clients have broken the trip up with an overnight stay in Gig Harbor which is almost exactly half way. Gig Harbor is a charming town and is a great place to spend an evening whether at anchor, on a buoy, or at the guest docks. Plan on leaving Gig Harbor early in the morning to hit the tides just right and cruise for 3-4 hours before arriving at Swantown Marina.
The benefits of bringing your boat to our docks are first and foremost, a great excuse to use your boat! Plus, brining your boat to us saves you time. We offer expedited service when boats are at our docks. Call for more information or to schedule an appointment that will give you an excuse to use your boat.